Contact
Menu
Datejust 31
Oyster, 31 mm, white gold and diamonds

m278289rbr-0019
price on request
All prices are Rolex's suggested retail prices inclusive of V.A.T.
Prices can be modified at any time without notice.
Model availability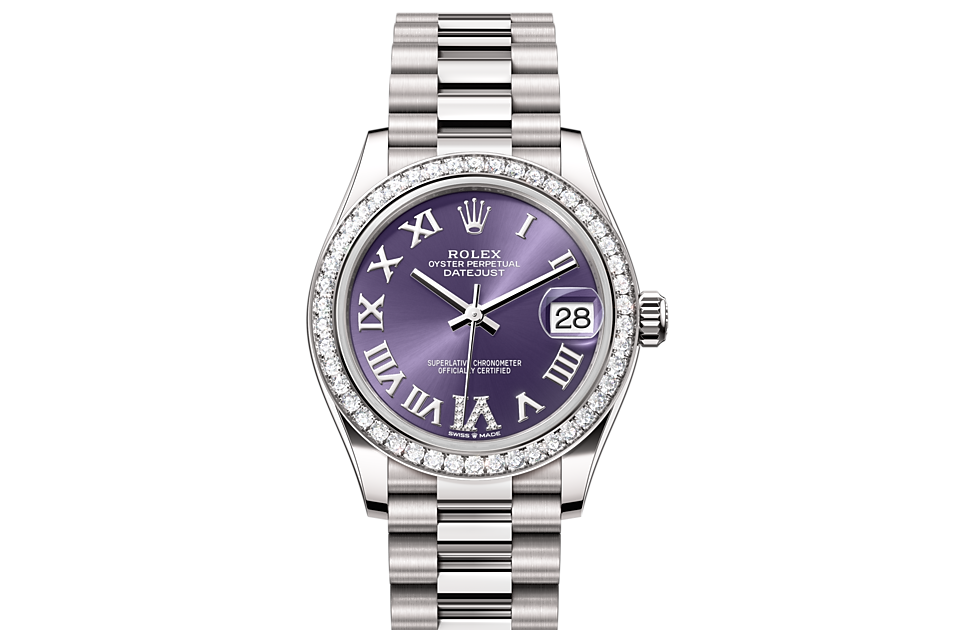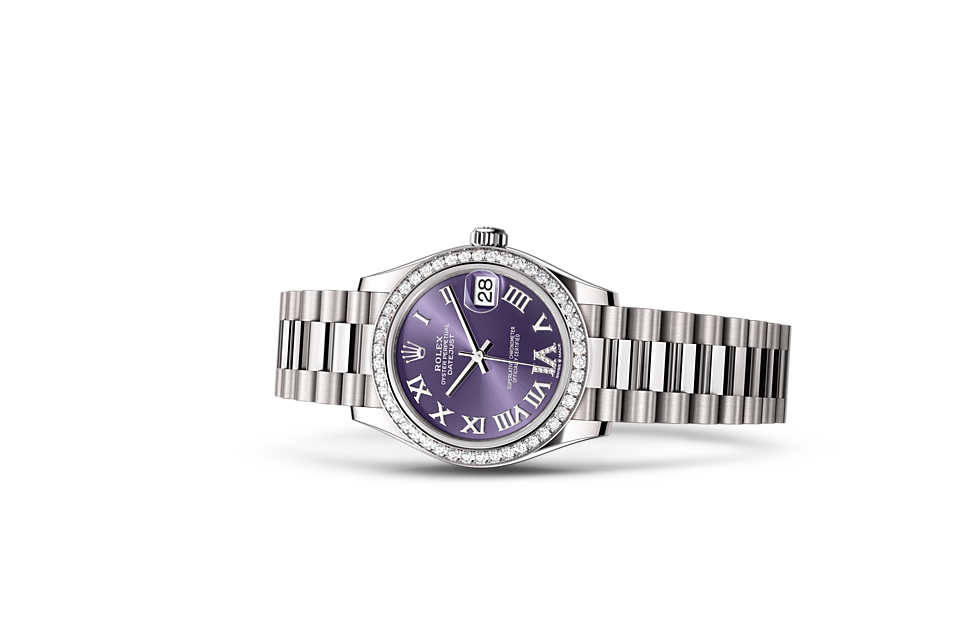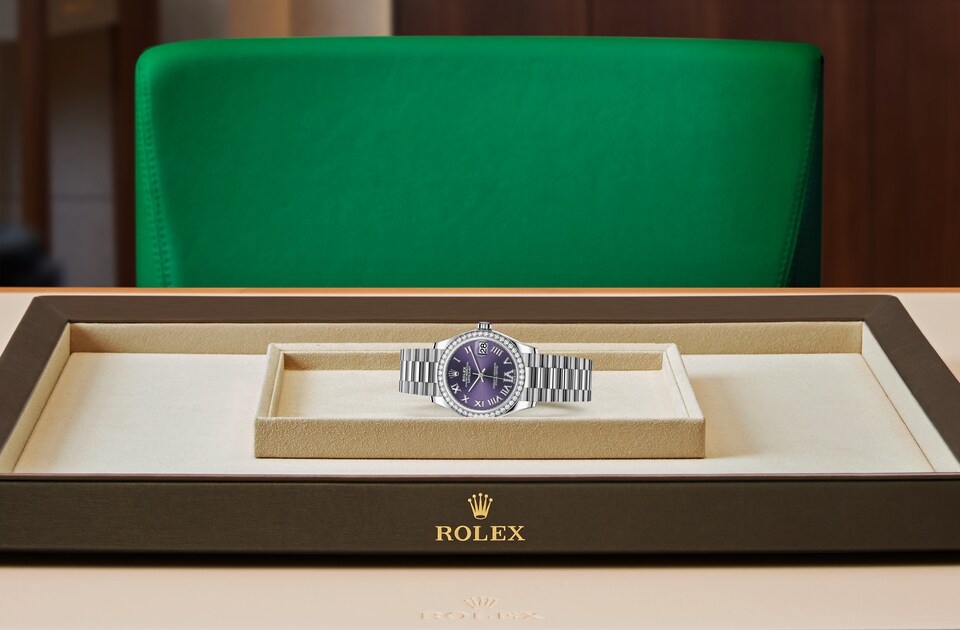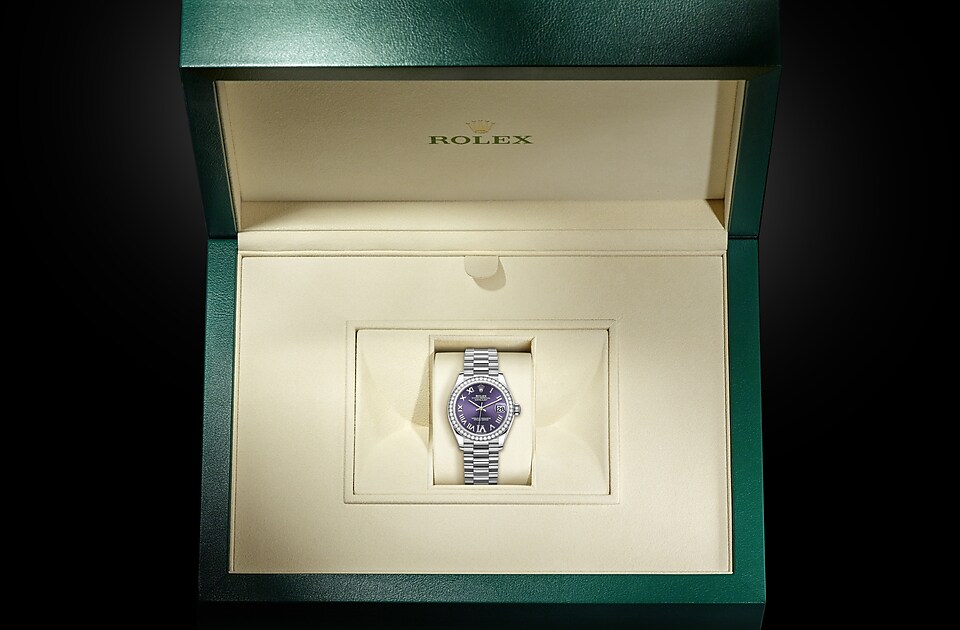 Datejust 31
Oyster, 31 mm, white gold and diamonds


m278289rbr-0019
Price on request
All prices are Rolex's suggested retail prices inclusive of V.A.T.
Prices can be modified at any time without notice.
Model availability
Reference
278289RBR
Model case
Oyster, 31 mm, white gold and diamonds
Bezel
Set with diamonds
Water-resistance
Waterproof to 100 metres / 330 feet
Movement
Perpetual, mechanical, self-winding
Calibre
2236, Manufacture Rolex
Bracelet
President, semi-circular three-piece links
Dial
Aubergine set with diamonds
Certification
Superlative Chronometer (COSC + Rolex certification after casing)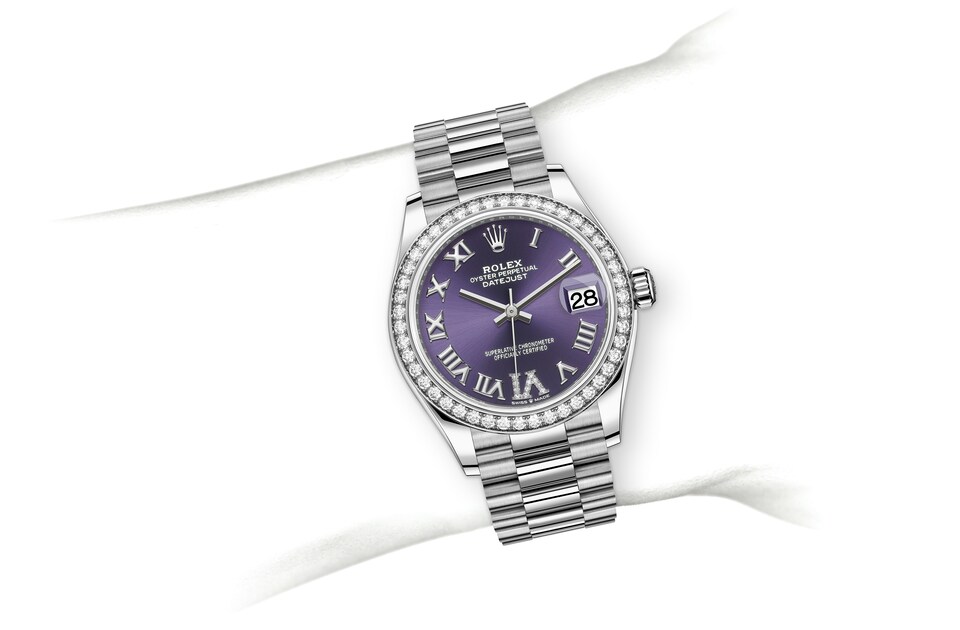 Aubergine Dial
The sunray finish creates delicate light reflections on many dials in the Oyster Perpetual collection. It is obtained using masterful brushing techniques that create grooves running outwards from the centre of the dial. Light is diffused consistently along each engraving, creating a characteristic subtle glow that moves depending on the position of the wrist. Once the sunray finish has been completed, the dial colour is applied using Physical Vapour Deposition or electroplating. A light coat of varnish gives the dial its final look.
Diamond-Set Bezel
Gem-setters, like sculptors, finely carve the precious metal to hand-shape the seat in which each gemstone will be perfectly lodged. With the art and craft of a jeweller, the stone is placed and meticulously aligned with the others, then firmly secured in its gold or platinum setting. Besides the intrinsic quality of the stones, several other criteria contribute to the beauty of Rolex gem-setting: the precise alignment of the height of the gems, their orientation and position, the regularity, strength and proportions of the setting as well as the intricate finishing of the metalwork. A sparkling symphony to enhance the watch and enchant the wearer.
18 ct white gold
By operating its own exclusive foundry, Rolex has the unrivalled ability to cast the highest quality 18 ct gold alloys. According to the proportion of silver, copper, platinum or palladium added, different types of 18 ct gold are obtained: yellow, pink or white. They are made with only the purest metals and meticulously inspected in an in-house laboratory with state-of-the-art equipment, before the gold is formed and shaped with the same painstaking attention to quality. Rolex's commitment to excellence begins at the source.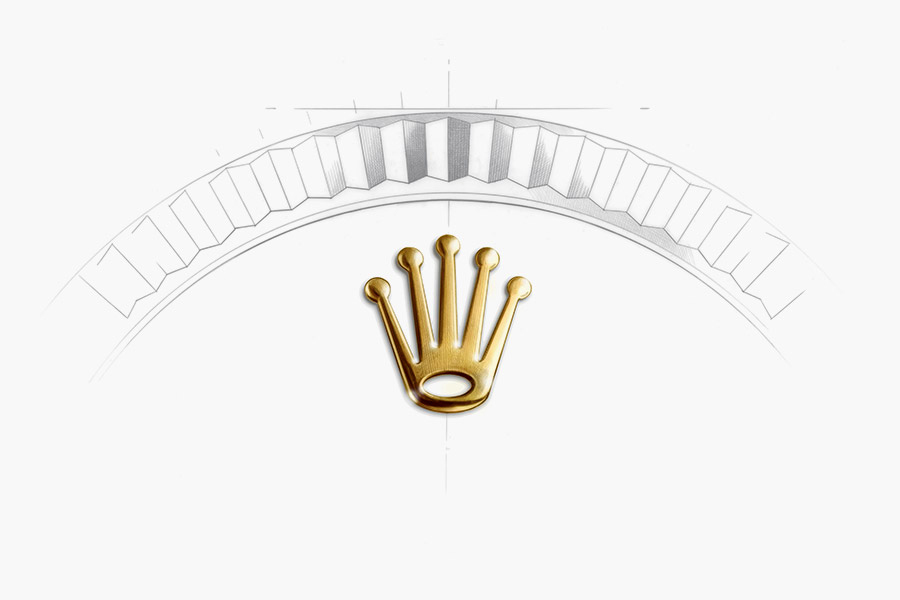 Model Availability
All Rolex watches are assembled by hand with the utmost care to ensure exceptional quality. Such high standards naturally restrict Rolex production capacity and, at times, the demand for Rolex watches outpaces this capacity.
Therefore, the availability of certain models may be limited. New Rolex watches are exclusively sold by Official Rolex Retailers, who receive regular deliveries and independently manage the allocation and sales of watches to customers.
‭Schullin Wien‬ is proud to be part of the worldwide network of Official Rolex Retailers and can provide information on the availability of Rolex watches.
How to set your DATEJUST 31
Synonymous with excellence and reliability, Rolex watches are designed for everyday wear, and depending on the model, perfectly suited for a wide range of sports and other activities. Built to last, these timepieces are characterized by their distinctive and timeless aesthetics. The Oyster Perpetual Datejust 31 is the expression of everlasting appeal. Learn more about this watch and how to set the time and date by watching the video.
Any day can leave a lasting mark on our lives and set the stage for new aspirations. Since its creation in 1945, the Datejust has continued to reinvent itself while symbolizing Rolex's definition of classic elegance. A milestone in watchmaking history, it was the first self-winding waterproof chronometer wristwatch to feature a window displaying the date. Magnified by the Cyclops lens, these numbers are a reminder that though 24 hours mark a day, it's on us to make those a date to remember.
Rolex Datejust
Make a date of a day
View all
Rolex Datejust
Make a date of a day
View all
Contact us
Please let us know which method of contact you prefer. We will get in touch with you as soon as possible.